Still Pissed. I Want Compen$ation or an appology Pronto (Officer Walpecker SDPD)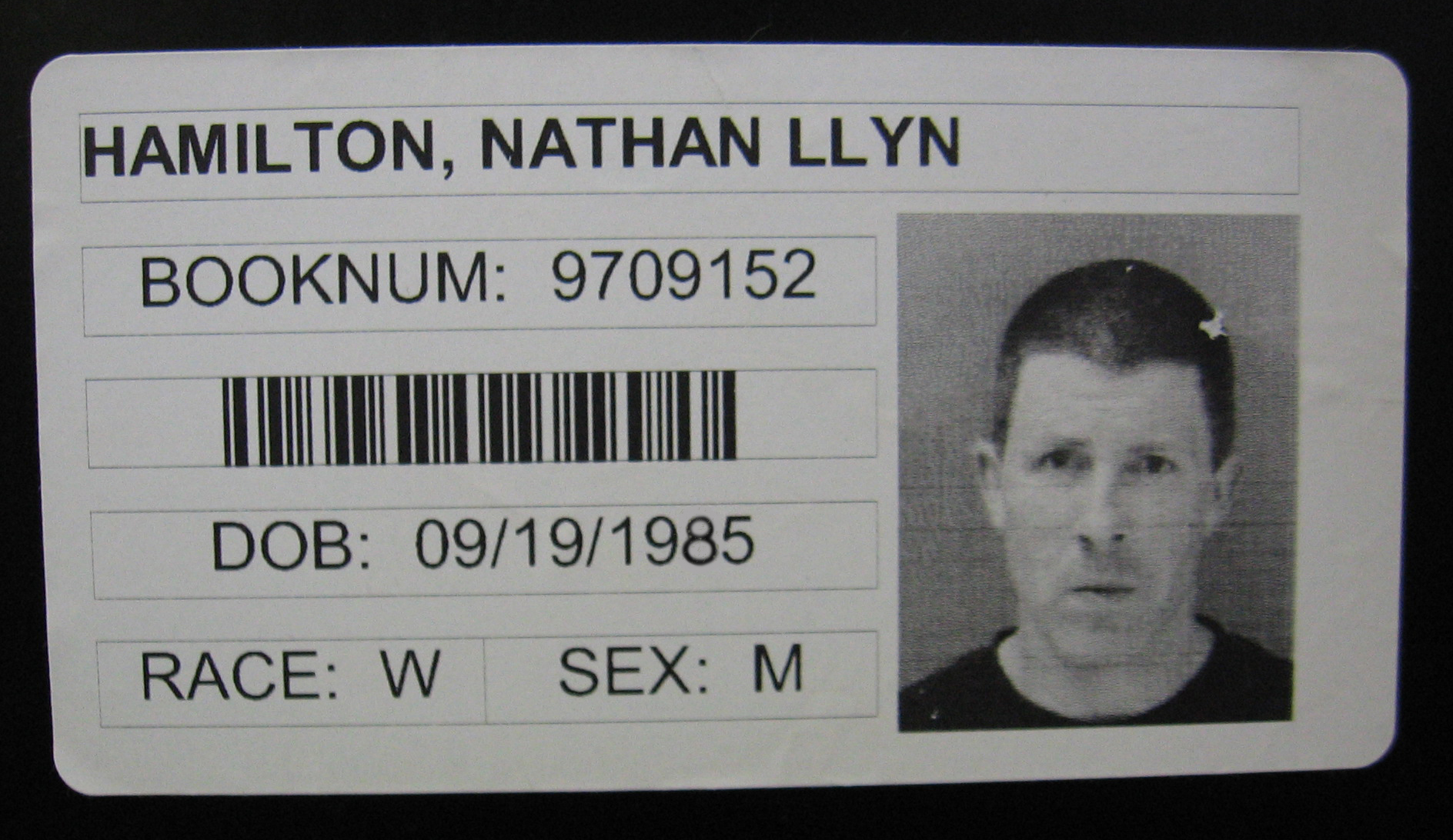 I certify under penalty of perjury that the foregoing is True and Correct. I certify on the behalf of myself, and the common wealth for the good of the people that all statements with in this story are real, true and accurate to the specifics in which they happened..
A giant thank you to officer Waldecker



of the San Diego Police department for falsely arresting me, while sitting on my front porch steps, on the accusation of a car theft (which turned into 2 Felony accounts, 1.Auto Grand Theft 2. Possession of stolen property) and matching the description of a white guy with blue jeans and a black t-shirt. Oh, I forgot to mention the guy they were looking for according to the police had tattoos on his left arm, smoked cigarettes, had a dog, had a different address than they were looking for and owned a Honda. That of which I pertained to nothing of the above accept for blue jeans and a dark blue t-shirt. So here's a little poem I wrote for you Officer Waldecker while sitting in a jail cell for 4 days, 4 days of my life that were taken from me that I can never get back because of him!.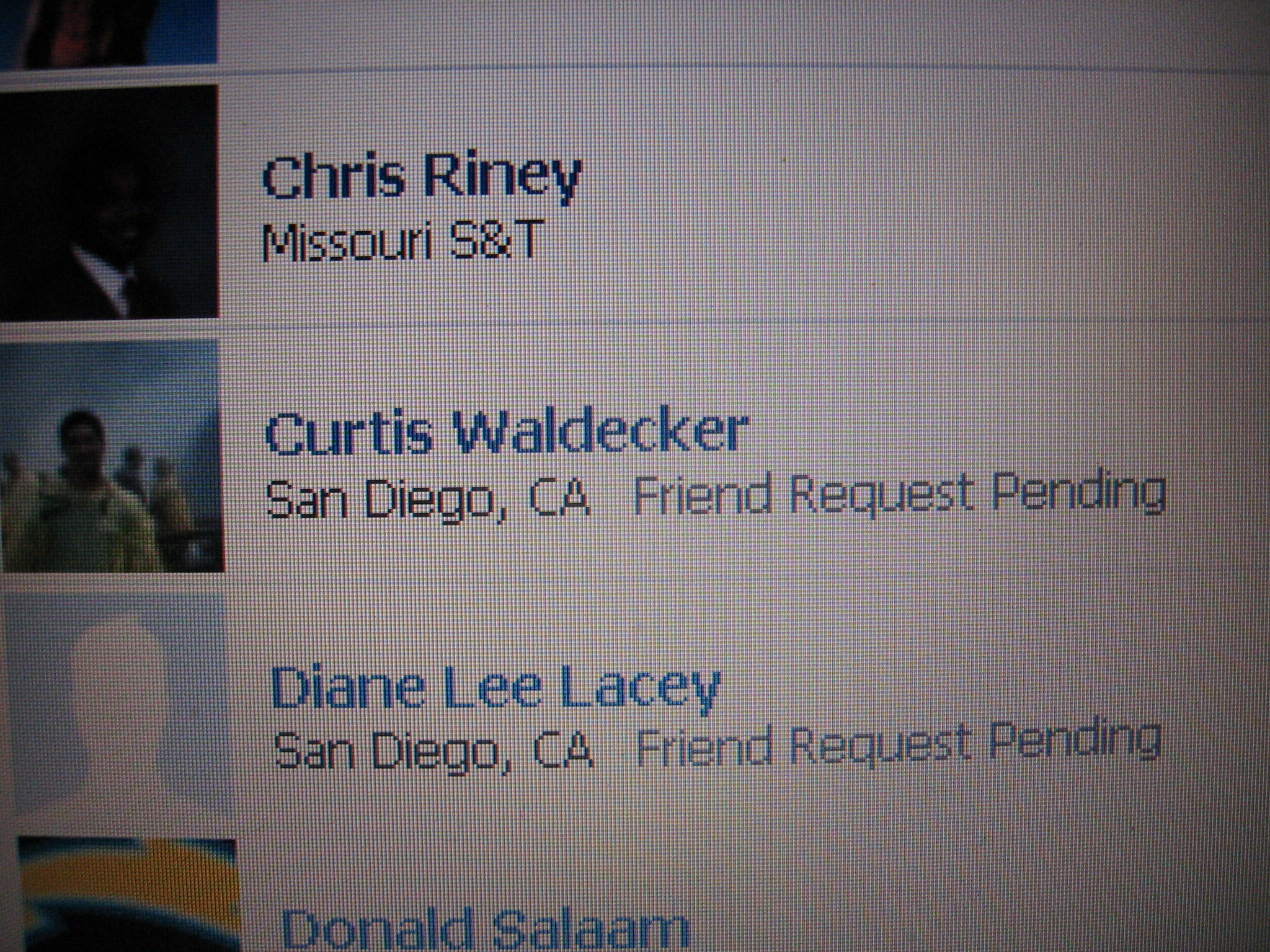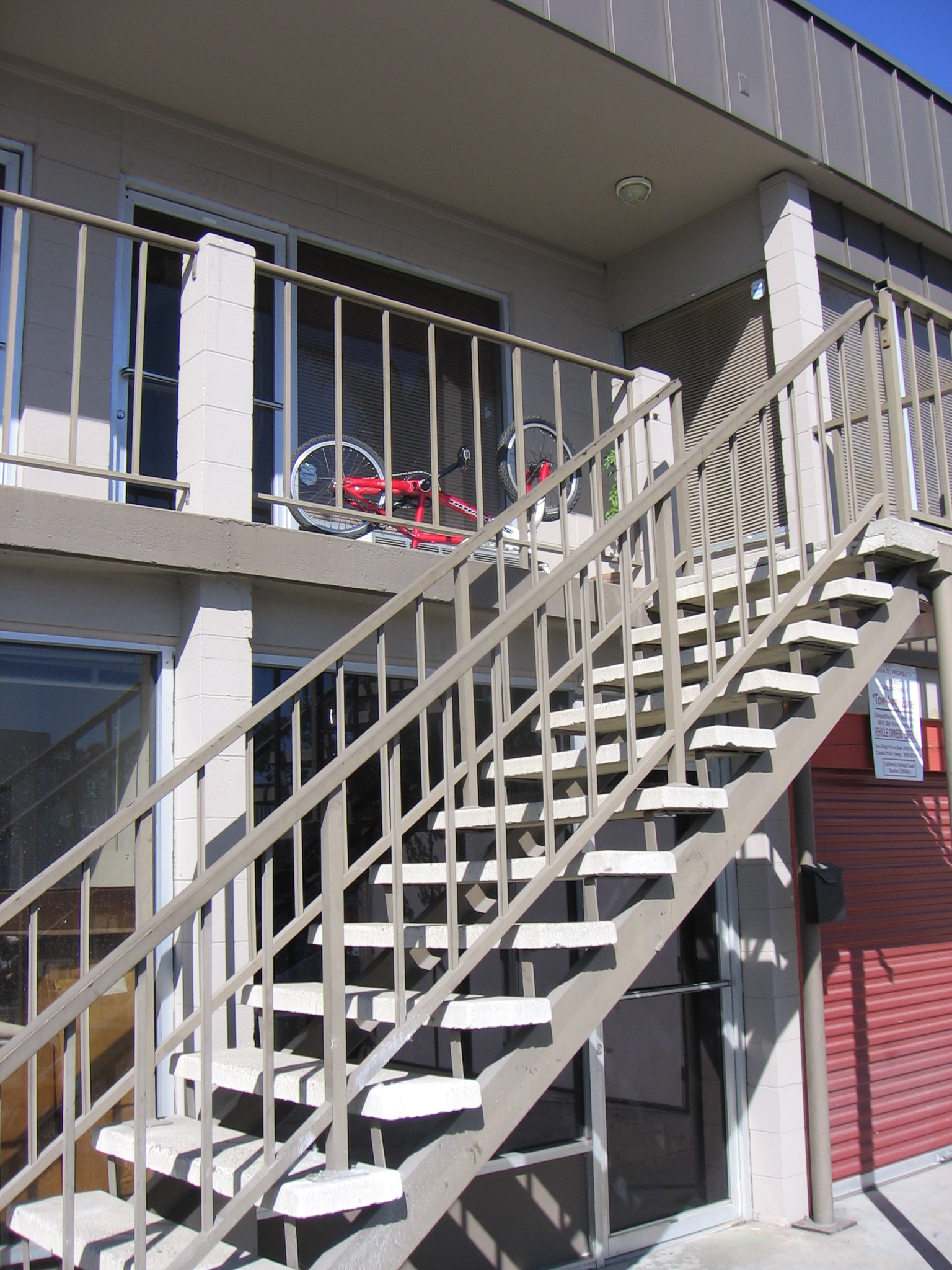 These are my front porch steps that I was falsely arrested off of with my bike that I had just put at the top of my steps after a bike ride..
READ MY JAIL CELL POEM DEVOTED TO OFFICER WALDECKER HERE:
>>>Falsely accused by the San Diego Police:
I was told I fit the description, black shirt and blue jeans:
Sitting on my front porch steps enjoying the view:
Two cop cars roll up catty corner, they all get out and act confused:
Looking for an address they could not find:
Asking me for my I.D., looking at me like I did some crime:
He said two witnesses saw me drop off a stolen car:
I told him to get the fingerprints, to find out who the people are:
Then he tells me I'm a thief that steels from my family:
I'm told that I'm in denial as he locks hand cuffs on me:
Thought he had his man, acting all happy and proud:
I didn't steel a car, I shouted out loud:
Now this cop was acting out of line:
Searching me for drugs and anything he could find:
This cops attitude was acting so poorly:
Thrown in a cop car, with no chance to plead my story:
Hauled off to jail upon a false accusation:
4 days spent in jail with no apology or compensation:
Now I'm pissed off, beyond belief:
I think its time to sue those damn police!:

READ THE FULL LENGTH STORY ON MY FALSE ARREST HERE!!
For all of you out there who think you have or can take total control of your life at all times, your wrong..At any time, you could be doing absolutely nothing, minding your own business, not even talking or looking at anyone and all the sudden a cop could roll up to you and decide you just look like a bad guy, hand cuff you and throw you in jail for no reason what so ever..This could happen to you just like it happened to me. Yeah, I found out the hard way, it's all about the economy down here.The City of San Diego is so broke that they will even falsely arrest people to make that money. There is no such thing as innocent till proven guilty..Or at least in San Diego, Its guilty until proven innocent. So here's my real life story of what happened to me on 2/2/09 and the losses I encountered and suffered as a result of being falsely arrested by Officer Curtis J. Waldecker of the San Diego Police department and thrown in jail for 4 days..Also, check out my jail cell stories further down on this page. "MY FALSE ARREST" On Feb. 2nd of 2009 at 4:30 P.M., I was sitting on my front porch steps as I often do just looking out enjoying the view.The sun was about to set in half an hour. But on this day I'm looking out towards the opposite side of my street to see a cop car roll up catty corner across the block from my place and park..Another car rolls up next to that one and parks. Then two officers get out of their cars and proceed to somewhat casually walk over to me as if nothing was wrong...One was a rookie cop, probably mid 20s, blond spiked hair with what looked like a ticket book that he was looking at as he was walking up to me ..The other cop was Officer Curtis Waldecker..As I'm sitting on my front porch steps, they ask me If I have my I.D. on me..I say "I'm not sure?"...Let me check...The officer replies "What do you mean your not sure if you have your I.D. or not?", as I'm pulling it out of my pocket..Now while Waldecker was checking out my I.D. the other rookie cop asked me if this was a specific address...1945 St. Name Example...I say "no", Its a different address. "But that's impossible", the cop says. I said "No its not."..."There's the address on the wall right there", as I point to it.. Then Waldecker says to me, "Well we have had a report of a stolen car in this area and you match the description of a white guy with blue jeans and a black shirt on". White guy with blue jeans and a black shirt?", I asked back to the cop. "I have a blue shirt on as you can see". I said to Waldecker...(In the police report it specifically stated black shirt.. I had on a blue shirt..) "Did you steal a car?" He asked me.."No sir, I have no idea what your talking about. A stolen car?", I ask back. "Yeah" he replies, "We have two witnesses saying that you dropped off a stolen car around the corner." Again I told the officer, "I have no idea what your talking about sir. I had just got home from a bike ride". My bike is even sitting up on top of the steps right next to my front door which is locked. I haven't even been inside yet." All the sudden Waldecker pulls out handcuffs and orders me to turn around....I say again, "I didn't take a car, I have no idea what your talking about Sir!", as I'm standing right next to my 1974 tricked out corvette which I'm trying to tell him about. (Turns out the stolen car was a piece of shit red Honda) .He doesn't believe me and orders me to "Turn around again!", and to "Put my hands behind my back!", and then he slaps the hand cuffs on me and orders me to "Look at the wall!"..Waldecker then pulls out a yellow ticket book and begins to write in it...He asks me " Do you have a dog?" I reply "No?" He looks kind of confused..I tell him to look at the leash on the pole to the right of me. "The guy that works right there has a dog" I told him. Again he looks at me confused. Then he asks me, "Do you smoke cigarettes?", I reply "No why?". He doesn't say anything...Then the rookie cop asked me If I own a black Honda and I reply "No, but there is one sitting right over there across the street..Is that the car of the person your looking for?", Waldecker and the Rookie cop both look at me and say nothing..Then Waldecker asks me " Do you have any tattoos on your left arm?", and I reply "No?" as I tell him to pull up my sleeve and see for yourself.."My left arm has no tattoos" I told him but he checked anyways. So then he asks me, "Well what tattoos if any do you have?"Of coarse I have allot of tattoos but none on my arms so I show off my other tattoos to him as he writes them down in his little yellow ticket book.A sun god, ect...Then he takes my brand new hat off and starts searching the inside of it around the rim for drugs...Then he searches all my pockets in my jeans while asking if I had any drugs or weapons on me.."No, NO and No!!" I reply. Now this is where it gets interesting...All the sudden he starts yelling at me...He starts telling me that "Your a thief!", and that "You stole a car", that "You steel from your family don't you?", and that "I don't like your type and kind and that I'm in denial. Denial! Denial! These were very specific aimed personal put downs. I don't know how you can call some one so many evil names and feel good about it. So every time he said something bad about me, I would accompany it by saying "I didn't steal a car, I have no idea what your talking about." Until he got so frustrated with me because of coarse he's trying to get me to say that I stole a car or call him a bad name, but I don't stoop to his level and he gets so frustrated that he flips me around from facing the wall for about 4 minutes to pushing me over to and in the back of a cop car ....Now I'm talking no more than 5 minutes from the time they asked me for my I.D. to the time I'm getting shoved in a cop car for no reason!!! So now I'm sitting handcuffed in the cop car and looking out the back window counting 8 police cars and about 10 cops all standing around in a circle behind the car that I'm handcuffed in. ..So by this time, I'm starting to get a bit nervous because it actually looks like I'm going to be thrown in jail for no reason..So I decide to start yelling out the window "I didn't steel a car"..and all the sudden they all start laughing at me and pointing at me like I was some criminal...I hear them saying in the background, "Looks like you got your man Waldecker"...So then Waldecker personally escorts me down to the San Diego jail and the whole time, they still haven't showed me or told me what kind of automobile was even stolen. No witnesses ever officially walked up to me and pointed me out and now I find myself deep into the heart of the police station, where the officer then leaves me in a car, lets it check my alcohol breath limits (I wasn't drinking), and air toxicity (meth) ect..then he pulled me out of the car, and ordered me to stand over next to the wall where he proceeded to take mug shots of me. He couldn't figure out how to work his camera for a bit. While Waldecker was photographing me, he asked me to take my hat off, and then noticed the size sticker still on it and asks me, "So are you in a gang, the gang that keeps these stickers their hats?" Yeah, all the sudden I'm being accused of being in some gang that of which I'm not and on top of the two felony accounts that he's going to try to pin on me and put me away for a while with... So if you read the story, let me tell you what really pisses me off about the whole situation...You probably didn't count how many different questions they asked me in which I said "No" and proved to them No per item asked when I was initially arrested...So let me list them again...1. Do you have a dog? No, but I pointed to a leash..2. Do you own a black Honda?, No, but I pointed to one across the street to one. 3. Do you smoke cigarettes, No.I told them I have not smoke since 1994. 4. Do you have tattoos on your left arm?, NO, I showed them my entire left arm. 5 ..Is this so and so address..No , as I pointed to the addresses on the building. 6 I matched the description of a white guy with blue jeans, yes, but a black shirt No! A blue shirt. But now check this pic out below..He accidently left this in my truck after going in it..This photo here proves that Officer Curtis J. Waldecker lied, yes, I will say it again, LIED about the color of my shirt on his own police report.!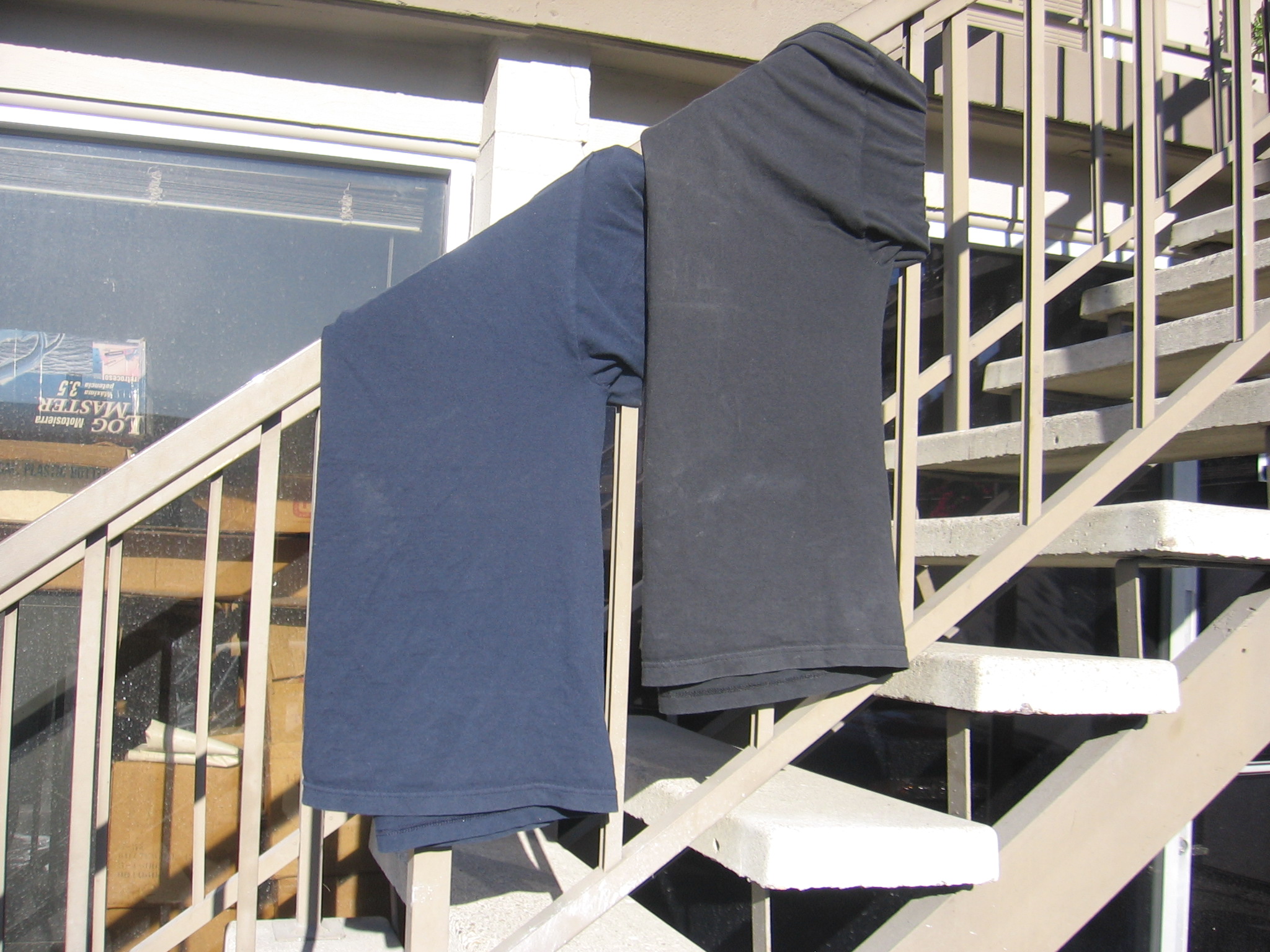 NOTICE THE COLOR OF THE BLUE SHIRT i WAS WEARING COMPARED TO THE BLACK SHIRT..
iT WAS BLUE.. THEN NOTICE ON THE FiELD REPORT HOW HE WROTE DOWN BLACK SHIRT..
THIS OFFICER LIED ON THE POLICE REPORT... THIS WAS NO MISTAKE...!!!!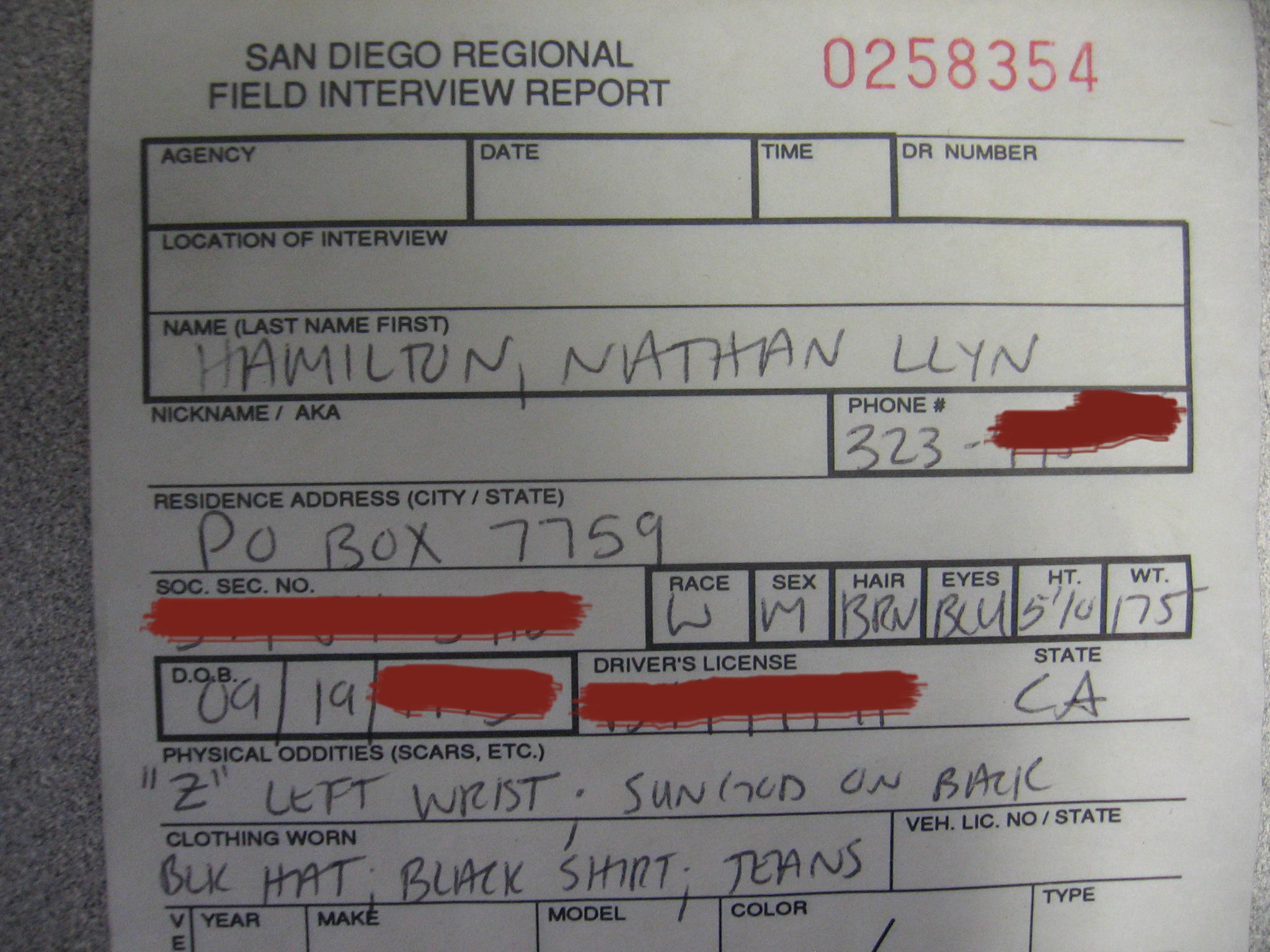 NOT ONLY DID OFFICER WALDECKER AND ALL THE OTHER POLICE THAT WERE THERE LIE ON THEIR FIELD REPORT, THEY ALSO LIED ON THE COURT DOCUMENTS... AS BELOW
NOTICE ON THE OFFICERS STATEMENT HOW HE ADDED IN THAT I WAS WALKING SOUTHBOUND
FROM THE SCENE OF THE CRIME. I WAS ACTUALLY SITTING ON MY FRONT PORCH STEPS AND
WAS NOT WAKING ANYWHERE AT ALL. i HAD JUST GOT DONE FROM A BIKE RIDE, WHICH i HAD BEEN RIDING MY BIKE GOING IN THE NORTH DIRECTION... WHAT THE FUCK!!!!!!!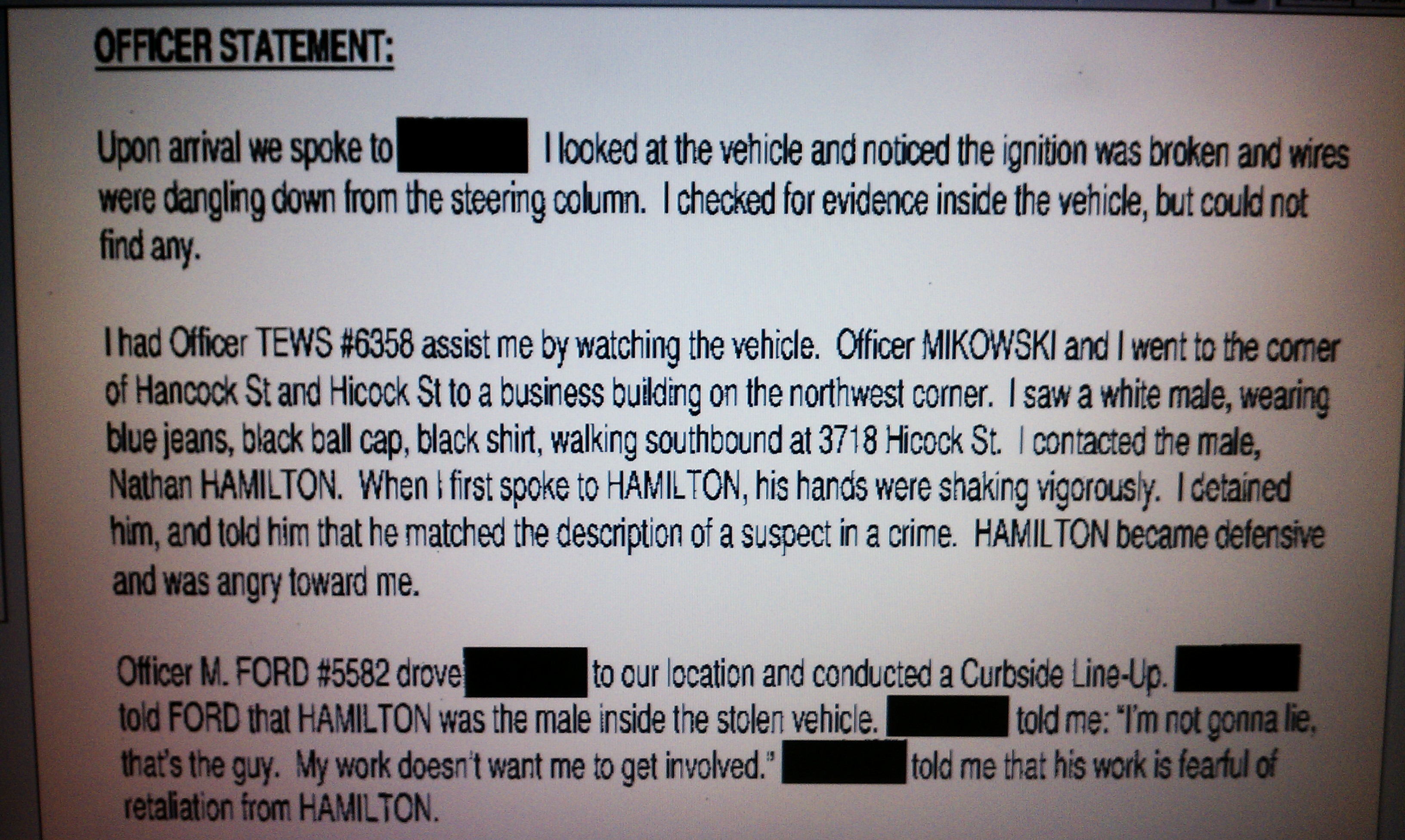 I had on a blue shirt! . THis is the exact shirt I had on at the time of my arrest next to a black t-shirt..Unless Officer Wallpecker is color blind, then this means that he lied about the color of my shirt! This means that the only thing he had on me that matched the description of the witness that he was looking for was a "WHITE GUY WITH BLUE JEANS". Now how many white guys in san diego wear or have a pair of blue jeans..Im pretty sure you could say 95% percent of white guys wear blue jeans... So Waldecker had nothing to take me in on but he still stuffed me in a cop car and hauled me off to jail anyways..


Now, there were six questions asked to me that of which I pertained to none of the above.. If there were six different questions they asked me that pertained to the description of the actual car thief and I matched none of those descriptions, then how is it that they can throw me in jail and take 4 days of my life from me even when none of the facts matched up with me.This is called negligent police work and leads me to wounder and question how often they are throwing people in the San Diego Jails for no reason at all. After all they did have (( TWO WITNESSES WHO POSITIVELY IDENTIFIED ME RIGHT?, WRONG!!))
..
They were so sure they had their man but never took into account the facts of the case. I consider myself an outstanding citizen who has worked in custom homes and invested as an electrician for over 10 years in the San Diego community and only been arrested once in my life on a DUI, in San Diego, 7 years ago, which is now off my record and no prior criminal history beforehand. That means that when I was arrested, I had a clean record. I wounder how many month/years I would have been in jail had they pinned a false arrest on me. And being falsely arrested and two felony accounts against me, I would never be able to own a gun again..(One felony account losses your gun rights for life!!) It's a good thing that one of my friends is the Rancho Santa Fe/ Escondido City defense lawyer. He came down and took my case because he knows that I am a good person .So, a Gigantic golf clap for you Officer Walpecker. Oh, excuse me, Small Pecker!!.You just won an award for the worst police work in history!! I will never have respect for you again unless you personally apologize to me...That is what I asked you for right before you shoved me behind the bars down there in that jail and you said "I might think about it"...I'm not asking, I am demanding a personal apology amongst the presence of other police officers...Also I am asking you personally to help me out in the process of being compensated for my losses accrued from your False Arrest. You know what you did was wrong and you are still in denial and in the wrong. So, if you don't want to make things right, then I promise you, you will make me famous, because I'm going to write a book about your actions and the results of how they effected me and it's going to be a Best Seller!! .
XXXXXXXXXXXXXXXXXXXXXXXXXXXXXXXXXXXXXXXXXXXXXXXXXXXXX
XXXXXXXXXXXXXXXXXXXXXXXXXXXXXXXXXXXXXXXXXXXXXXXXXXXXX
READ ABOUT BEING LOCKED UP IN THE SAN DIEGO JAIL HERE.
So from the above we left off with me asking Waldecker after I get out of jail, for an apology and he says "I'll think about it", as he forces me behind the bars in a 12ft by 12 ft jail cell, with 5 other guys in it..One guy was on a yellow phone. There were two phones in this cell..Now let me tell you from the experience of being in the jail for 4 days, this is your last and only chance to make a phone call out of that jail until you actually get released (freed). And if you can't contact anyone to help you out, (make your bail), then you might be in there a little longer than 4 days until the City Thieves finds a way to make sure they can Rob you of your money after they release you . ((California = 1 In prison spending. 48 in education spending in the U.S.)) They may tell you there are working phones in the common area within the jail cell and there are but this is a bunch of bullshit..I didn't actually see or hear anyone that could get the phones to work. ..So I'm telling you, that is, your last chance to make a call in the very first cell you get placed in right after your arrest no matter if you committed a crime or not..I was in that first cell for probably 30 minutes or so. I ended up getting ahold of three people I knew . From there they had us march from the initial first cell, down a hall and into what I will call cell 2. This cell was about 20 ft by 20 ft with 1 foot wide steel benches all around, no heat, and 1 toilet that if you had to take a shit, it would have been in front of about 25 people..But this toilet was already overflowing with shit all over the floor..Yeah , I had almost already shit my pants just from being falsely arrested anyways, and now I had to take a shit infront of about 25 dudes?. Didn't fancy the idea. Figured I was going to hold it as long as I could..We were probably in cell 2 for about an hour and a half. Then they marched us down to cell 3 where you had to wait in this room for a bit, then go through a door, a guy asked your size and handed you complementary S.D. JAIL pants, a custom blue matching t-shirt & pants and a puke brown pair of fake ass rubber top basket woven rubber flip flops...Then me and about 10 other guys were ordered to line up on a wall, strip, and throw our clothes in a pile in front of us as two cops watch. Guess whats next, they asked us to turn around , face the wall, bend over, spread your ass cheeks and cough...Kind of made me wounder?, and how mother fucking humiliating!! Is this what they do to everyone normally when you go through the jail or had I just got wrapped up in "Operation San Diego Gay Ass"? Also every time we got marched down a hall, everyone had to put their hands in and in front of your pants like you were some perv. playing with yourself. So, after having to spread your ass cheeks and cough, they asked us to turn around again, and then put on the clothes they supplied to us..Then we were marched into another room where you lined up and they x-rayed everyone for T.B..Then we were marched down to cell 4 and had to wait for about another hour until you were called one by one to get computer scanned & fingerprinted (No More Ink Prints, all digital now my friends) and they forced us to give a DNA SAMPLE also, which I am demanding back.I did not willfully give that up! I asked questions. This was required or else.They said I would be forced to , if I didn't scrape some skin cells off of my inner cheek. Then we were marched down to cell 5 were we waited for an hour or so until they marched us into an elevator, took us up a couple floors, and sent us into this basket ball court size room with really tall walls. As I'm, looking up I see two vents and day light shining through the vents..That meant that I had been switching jail cells all night until the sun came up the next morning just to get what they call processed .If I was arrested at 4:30 p.m. the previous day,then it had been at least 14 hours since I had seen food, or had a decent place to shit. .It was funny, at this point there was room to spread out so allot of the guys started doing push ups and trying to get all pumped up. Every one was antsy from what I counted moving around in about 10 different jail cells through out the night. Then finally, one of the guards marches into the room with some food..I was starving..I hadn't eaten since lunch the day before.. The guard tossed each person a brown bag lunch..In it consisted of two pieces of white bread with a piece of bologna that had peppercorns in it. A mustard and mayo squeeze packet, a soggy peanut butter cookie that fell apart when you tried to grab it, and a small carton of warm milk..I hate bologna, but I was starving, so I ate that shit up anyways..The pepper corns did an instant number on my stomach ...I learned the hard way ya have to pick those out before you eat their slop...Then after we all ate that slop, they called us out name by name, they marched us out of the tall room, made us grab a silver 1 inch thick mat to sleep on and a personal hygene pack. Then the guards lined us up and marched us down to what I'll call the bunk bed room where there was an upper and lower section of bunk beds..You weren't told where to post your bunk bed, but to just find a spot for your mat and place it there along with your personal hygene packet and wait there for further notification..By the time I had been "officially processed", it had been nearly 24 hours by the time I got a bunk bed and was able to (GET SOME SLEEP) yeah right are you kidding...Are you ready for the funny ass part of this story?.So I end up getting a bunk bed in a section where there were a bunch of mexican bros which I get along with fine,I speak spanish, but for some reason they didn't like this other white guy that ended up bunking on the top floor.So check this out. You never know when it's your time to get released from jail. It could be in the morning or night. But when you have done your time, they call your name out on a loud speaker. It goes like this. Example: "John Carlos, attn: John Carlos, wrap it up, it's your time to go home". And so you grab your mat and all your belongings that you have collected over your visit and bring them down to the door then you wait for an officer to open it and lead you to what is called the releasing process....Anyways, the mexican bros that didn't like this white guy decided to yell out really loud when every one was sleeping "John Carlos, John Carlos, wrap it up, it's your time to go home!!"..So this guy that's bunked above, grabs all his belongings and runs down the stairs to the door where you get released and waits for a guard to show up. There must have been about 5 or 6 people that started egging this guy on saying "Hey homie, looks like your going home huh!", and "Good job man, your going home" and "You made it man", and clapping...The guy is all stoked. So he's waiting there for about maybe half and hour and slowly you start hearing chuckling and laughter in the background continuously..So the guard doesn't show up and this kid starts to get kind of agitated and so the inmates around me start saying " Hey homie, you have to push that button and bang on the door real loud...Your going home...Bang on the door, push that button at the same time homie?". So this kid falls for it...And man, for one, he was in the common area at a time when your were not allowed to be out, and two all the sudden you see this guard come running down the hall and he slams open the door and looks at this kid with his mat and belongings and says "What the hell is going on?" and the kid says to the guard, " They called my name, I'm going home" all excited and the guard looks at him and at the top of his lungs yells "Get your ass back to your bunkbed!!, there were no names called.". And the kid cowers and gets real small and looks at the guard and says " But Sir, they called my", and the guard again at the top of his lungs cuts this kid off in the middle of his sentence and gets right in his face and yells, " Get your ass back to bed now!!!"...Oh man , you wouldn't believe, by that time, everyone had woken up from the disturbance and was rolling off their bunk beds laughing so hard...I was almost crying, that shit was fucking funny!! So the kid ends up going back up stairs to his bunk all pissed off and cussing profanities..
XXXXXXXXXXXXXXXXXXXXXXXXXXXXXXXXXXXXXXXXXXXXXXXXXXXXXXXXXXX
XXXXXXXXXXXXXXXXXXXXXXXXXXXXXXXXXXXXXXXXXXXXXXXXXXXXXXXXXXX
READ ABOUT RIGHT AFTER i WAS RELEASED FROM JAIL AND THE KEY WITNESS i FOUND THAT WOULD SURELY GET ME OUT OF THIS MESSED UP SITUATION!
So right after I get released from jail of coarse my first thoughts were how the fuck did this happen to me. They had no right to throw me in jail and now I'm being charged with 2 felony acounts..1. Grand theft burglary. 2. Posession of stolen property?. (By this time, I still had not been told what kind of automobile had been stolen, nor had they presented me with any kind of eyes on evidence..) So of coarse my first instinct was to go try to talk to people and find out what actually happened. And thank you god!, by the light of day, the first person I just happened to talke to was a mechanic that worked right next to where these two kids had ended up stalling and parking a red honda. The mechanic said " That there was a white kid and a mexican kid together". They had asked him to give their car a jump..So this mechanic actually tried to help these kids by hooking up a battery charger to their car for a bit..He said that "After the battery had been charged that I noticed the kids having a hard time trying to gett the car started...and it wouldn't start" So he then told me he asked the kids, because the car was parked in the red zone, if they would like to push the car into his parking lot so it wouldn't get towed away. The kids said, " No" but the mechanic again insisted that they push the car into his parking lot and then the kids got nervouse and ended up taking off..NOw this mechanic from what he said was not talked to by police nor did he call in the kids...There were two other so called "Positive identified witnesses that saw me there right? Wrong...The next witness I talked to worked in a boat yard but we will talk about him later when I get copies of my police report and post them here. There was also an older woman that worked in the boat yard who in the police report identified the white kid thief as being a smoker with tattoos on his left arm.. Lets see, but I showed them my left arm. It didn't have any tattoos on it?.!!
XXXXXXXXXXXXXXXXXXXXXXXXXXXXXXXXXXXXXXXXXXXXXXXXXXXXXXXXXXX
XXXXXXXXXXXXXXXXXXXXXXXXXXXXXXXXXXXXXXXXXXXXXXXXXXXXXXXXXXX
NOV. 12, 2009 ,BETWEEN THE HOURS OF 1 AND 2 AM, I'M SITTING HERE LOOKING OUT MY WINDOW TO NOTICING THAT A COP CAR HAS BEEN HANGING AROUND OUT SIDE THE FRONT OF MY HOUSE FOR ABOUT TEN MINUTES BEHIND A BUSH WHERE ITS HARD TO SEE HIS CAR..I CAN HEAR THEM TALKING, HE HAS A SPOT LIGHT ON, AND THEN LEAVES IN A FEW MINUTES..THEN I SEE ANOTHER PATROL CAR GO THE WRONG WAY UP A ONE WAY STREET, TAKE A LEFT ONTO MY STREET, HE PULLS IN MY DRIVE WAY, BACKS OUT, PULLS FOREWARD AGAIN AND BACKS OUT THEN LEAVES...??
PREVIOUS ENCOUNTERS I HAD WITH OFFICER WALDECKER BEFORE MY FALSE ARREST INCLUDE: 1. I WAS PULLED OVER BEFORE FROM WALDECKER. HE WAS WITH THE SAME BLOND ROOKIE COP WITH SPIKED HAIR THAT WAS ON MY FALSE ARREST. IT WAS FUNNY, THEY FALLOWED ME ALL THE WAY TO MY HOUSE IN THEIR COP CAR, ALLOWED ME TO PULL IN MY DRIVE WAY AND PARKING SPOT, AND THEN TURNED HIS SIREN AND LIGHTS ON. GOT OUT OF HIS CAR AND PROCEEDED TO LOOK FOR THINGS ON MY TRUCK TO GIVE ME A TICKET ABOUT..I WASN'T DOING ANYTHING WRONG, AND HE DIDN'T GIVE ME A TICKET. HE JUST TOOK OFF REAL QUICK.. 2. THE SAME ROOKIE COP THAT WAS WITH WALDECKER ENDED UP FOLLOWING ME OVER TO OCEAN BEACH FROM ABOUT MID WAY TO SPORTS AREANA..HE WAS WITH ANOTHER BLONDE HAIRED ROOKIE COP WHO HAD SHADES ON...THEY FALLOWED ME AROUND OCEAN BEACH SEVERAL BLOCKS AND CORNERS WITHOUT PULLING ME OVER . SO I ENDED UP PULLING OVER IN SOMEONES DRIVE WAY. THEY ENDED UP BLOCKING ME IN THE DRIVE WAY WITH OUT TURNING THEIR LIGHTS ON..THEY DIDN'T EVEN GET OUT OF THEIR CAR FOR I COUNTED OVER 5 MINUTES..SO I DECIDED TO GET OUT OF MY TRUCK AND GO OVER TO SEE JUST WHY THEY WERE FOLLOWING ME..GUESS WHAT THE ROOKIE COP ASKS ME..."UH, WE WERE WOUNDERING IF YOU COULD SEE THROUGH THAT SAVAGERHYMES.COM STICKER ON THE BACK OF YOUR TRUCK WINDOW?" I SAID, "WHAT DO YOU MEAN?, IS THAT WHY YOUR FOLLOWING ME AROUND?" I ASK..THE ROOKIE COP SAYS YEAH...SO I TELL HIM THAT "YOUR NOT EVEN REQUIRED TO HAVE A BACK WINDOW ON AN AUTOMOBILE IF YOU HAVE TWO SIDE MIRRORS WHICH I DID, BUT I COULD STILL SEE OUT THE BACK OF MY WINDOW JUST FINE TOO. I TOLD HIM TO GET LOST AND GO CHASE SOME BAD GUY..YOU HAVE NO RIGHT TO BE FOLLOWING ME AROUND TO ASK STUPID QUESTIONS IF YOU DON;T EVEN KNOW THE LAWS YOURSELF!!". 3.
XXXXXXXXXXXXXXXXXXXXXXXXXXXXXXXXXXXXXXXXXXXXXXXXXXXXXXXXXXX
XXXXXXXXXXXXXXXXXXXXXXXXXXXXXXXXXXXXXXXXXXXXXXXXXXXXXXXXXXX
READ AN UPDATED DAILY LOG ON THE HOOPS I'M HAVING TO JUMP THROUGH IN ORDER TO TRY TO GET SOME SORT OF COMPENSATION. On WEDNESDAY, 11/ 10/ 2009, I have officially spoken with Lieutenant Frank Hoerman of the San Diego Police departement and briefed him about Officer Waldecker falsely arresting me and how he blatantly neglected to take into account the facts of the case and who they pertained to. Frank Horman said that I will recieve some sort of notification from the City of San Diego to get the official complaint form filed, and for compensation..He was not sure if it would be a phone call or a Letter..
$$$$$$$$$$$$$$$$$$$$$$$$$$$$$$$$$$$$$$$$$$$$$$$$$$$$$$$$$$$$$$$$$$
$$$$$$$$$$$$$$$$$$$$$$$$$$$$$$$$$$$$$$$$$$$$$$$$$$$$$$$$$$$$$$$$$$
MONDAY 11/ 23/ 2009 I have not seen a letter in the mail or had a phone call that had to do with some sort of contact that I'm suppose to receive..So, I just called the San Diego dispatcher to try to get a hold of Lieutenant Frank Hoerman in order to see if the papers had been sent off yet or when I would get a phone call He was not working tonight..I have been given a number to call him at on tuesday between the hours of 8 and 5. I could not leave a message to have him call me...I will call him tomarrow on 11/ 24/ 09 to see about some paper work for the compensation process.
$$$$$$$$$$$$$$$$$$$$$$$$$$$$$$$$$$$$$$$$$$$$$$$$$$$$$$$$$$$$$$$$$$
$$$$$$$$$$$$$$$$$$$$$$$$$$$$$$$$$$$$$$$$$$$$$$$$$$$$$$$$$$$$$$$$$$
TUESDAY 11/ 24/ 09 Today I called Lieutenant Frank Hoerman of the San Diego Police departement, he was not there so I left a message. He promptly returned my call saying that he received my message and that he had put in a motion to get the ball rolling on some paper work but wasn't sure why or how long that would take..? He gave me a number 619 236 6670 to internal affairs, and stated that you could probably get the compensation process going quicker if you called Internal Affairs. So I called there and spoke with a woman for a bit... She said that all I had to do was give her my Name and address in order for her to mail out some paper work..She also stated that "As long as it was within 6 months of the accusation, that they would go through with the paper work no problem". "Now wait a minute", I said to the lady.."It's been over 6 months since it happened but it took about 3and 1/2 months to clear the case up, and since then I guess Ive been waiting for an appology of some sort and trying to catch up from my losses but no one has lent me a hand in compensating me for what's owed to me. The city just ended up dropping the case?.. It's like they didn't even want to figure out what actually happened.So the lady now says to me, "Well then you will have to fill out a form stating why you took so long (past the 6 months to make claims) in starting the claim process, and if they accept that excuse for why you took over 6 months to make your claim, then they might look at your paper work and allow it to go through"...Now I said to her, " Now there's no difference in if I commited a crime or a police officer commited a crime... If you get caught a year later, you would still go to jail"...But now basically what this city employee is saying to me is that if the city commits a crime against an you or an individual and you don't make a claim within 6 months, that now you can't make a claim against them? And further more this is the same as saying once an officer commits a crime, if it's past 6 months, than he or she can't get in trouble? I think this is the wrong message to be relaying to the general public.. If a civilian commits a crime and then gets caught even 3, 10 years later, that civilian still goes to jail...NO 6 MONTH RULE FOR US MY FRIENDS!!!!!wHAT uP?
$$$$$$$$$$$$$$$$$$$$$$$$$$$$$$$$$$$$$$$$$$$$$$$$$$$$$$$$$$$$$$$$$$
$$$$$$$$$$$$$$$$$$$$$$$$$$$$$$$$$$$$$$$$$$$$$$$$$$$$$$$$$$$$$$$$$$
..
Nov. 2nd , 2009, I received a letter in the mail today from the City of San Diego. IN it is a form that I have to feel out
..
..
XXXXXXXXXXXXXXXXXXXXXXXXXXXXXXXXXXXXXXXXXXXXXXXXXXXXXXXXXXX
XXXXXXXXXXXXXXXXXXXXXXXXXXXXXXXXXXXXXXXXXXXXXXXXXXXXXXXXXXX
Occurrence or event from which the claim arises:
a.Date 2/2/2009
b.Time 4:30 p.m.
c.Place,(exact and specific location):
I was sitting on my front porch steps at st. enjoying the view doing
absolutely nothing wrong!
d.Specify the circumstances of the occurrence, event, act or omission which you
claim caused the injury, damage or loss.
(use additional paper if necessary):
1. Falsely arrested and accused of stealing a car!.
2. 2 felony accounts:
1. Posession of Stolen Property!
2. Grand Theft Burglary!
3.4 days in jail....(over 72 hours of being behind bars) more like 4 days in
jail!
4.Public Humiliation!
5.Defamation of charator!
6.Uncalled for stress
7.Being very angry ever since this messed up situation happened!!
e.State how or in what manner the City of San Diego or its employee were at fault:
Your city cops were given all the clues and evidence to the person who stole
the car.
They were looking for a:
1.a guy with tattoos on his left arm.
2.a guy who smokes cigarrets
3.a guy who owns a black honda
4.a guy who owns a dog
5.a white guy with blue jeans and a blackshirt on...
This is is who they were looking for and all in the police report..
but guess what...none of those descriptions applied to me accept
for i was a white guy with blue jeans on and a blue shirt...
The police report stated black shirt...Basically the police
who detained me at the time were not professional enough in their trainig
to recognize that i did not pertain to any of the descripions and facts accept
for that I had on blue jeans and I was a white guy..I would call this
very unprofessional police work! to say the very least...How many white guys
do you know that wear blue jeans? Yeah , I would say at least 95% of white guys
have a pair of blue jeans.
4.Give a description of the injury, property damage or loss incurred so far as
is known at the time of this claim. If there were no injuries, state "no injuries"
(If you claim involves a vehicle, include license, year,make and model)
1.5,000 dallars for each day of my life that was taken from me ..
for a total of 20,000 dallars."falsely accusing one of a crime is worse than
commiting the crime by ones self". I take this very seriously!
You cannot put a price on a day in someones life...I would say 5,000 per day
is conservative.
2.600 dallars bail to be given back to my aunt diane who drove down 6 hours from
San Luis Obisbo to bailme out. I have no other family members in the
State of California.
3.400 dallars for the gas food and hotel my aunt had to buy order to
drive 6 hours down , and six hours back up from san luis obisbo and
bail me out after being thrown in jail for no reason.!
4.(Public Humiliation) 500 dallars for each time i had to take a crap in front
of at least 30 people each time..I had to do this 3 times in the 4 days that
i was there for a total of 1500 dallars..I remember each time very specifically
5.2000 dallars for getting sick in your sandiego jail..I was sick for two weeks
after thatand could not work.there was no heat in the jails..
And the jails were not clean!!
6.Defamation of charactor...No one wanted me to do electrical work for a while
until they found outif i actually stole the car or not...
It made people who trust me, not trust me as much or second guess my charactor
and so they did not allow me to work for them untill the truth was found out...
About two months lost of work
7.I Demand 735 dallars for the rent i had to barrow from a friend , that of
which i would have made by working the four days that i was in jail..
8.I demand 100 dallars for each disgusting meal that i had to force down my throat..
This was the worst food i have ever eaten in my entire life.. IT was absolutely
disgusting!! Total meals = 400 dallars
9. I demand 500 dallars for my time i had to sit here and type this out and to think
about what i was going to say.
10.I demand 2oo dallars for each time i had to go to quart..for a total of 600 dallars
11.500 dallars for the personal insults that were yelled at me in my face while
i was being arrested..
a. that you are a theif
b. that i steal from my family
c. that i am in denial
d. Im a bad person and he doesn't like people like me..
5. Give the names of the city employees causing the injury,damage or loss, if known:
Officer Waldecker Badge number 4892
Officer Waldecker Badge number 4892 in the photo directly below..
..
If you have had a bad experience with the same cop you can go to www.RateMyCop.com, and search Curtis J. Waldecker, There you can rate him and tell your story....I personally gave him the lowest rating I could given my situation...
Officer Ford Badge number 5582
officer tews badge number 6358
officer Sarot, the seargeant on duty Badge number 2846
and all the other officers who were standing in a circle laughing at me while i was handcuffed in the cop car (you know which cops you are) yelling out the window ( I did not steal a car, and i have no idea what your talking about)..Its funny how he included this in the police report specifically stating that I was yelling at him that I did not steal a car..Of coarse I will not stoop to someones level, so I never badmouthed this cop or called him any names what so ever..Even the blonde haired kid rookie cop who was standing beside me while handcuffed next to my front porch steps at my house, personally apologized for his supreme high horse behavior..
xxxxxxxxxxxxxxxxxxxxxxxxxxxxxxxxxxxxxxxxxxxxxxxxxxxxxxxxxxx
xxxxxxxxxxxxxxxxxxxxxxxxxxxxxxxxxxxxxxxxxxxxxxxxxxxxxxxxxxx
6. Name and address of any other person injured: None
7. Name and address of the owner of any damaged property: None
8. Damages Claimed:$$$$$$ Dallars
a. amount claimed as of this date:
b. Estimated amount of any future costs: $ 0
c. Total amount claimed:
d. Basis for computation of amounts claimed: include copies of all bills, invoices,
estimates, etc.
9. Names and addresses of all witnesses, hospitals, doctors, ect..
10. Any additional information that might be helpful in considering claim...None Warning:
it is a criminal offense to file a false claim! Penal code 72; Insurance Code 556.1)
I have read the matters and statements made in the above claim and i know the same to
be true of my own knowledge,except as to those matters stated upom information or
belief and as to such matters I believe the same to be true..I certify under penalty
of perjury that the foregoing is True and Correct: Signed this of , 20 at p.m.
Claimants signature
XXXXXXXXXXXXXXXXXXXXXXXXXXXXXXXXXXXXXXXXXXXXXXXXXXXXXXXXXXX
XXXXXXXXXXXXXXXXXXXXXXXXXXXXXXXXXXXXXXXXXXXXXXXXXXXXXXXXXXX
DOUGHNUT EATIN PRICKS:
SO YA THINK WHEN YA TAKE THE GUNS OFF THE STREETS, ITS A SAFER SOCIETY, NOW WE GIVE THEM ONLY TO POLICE; SLOW ON THEIR FEET BUT QUICK TO ACT WIT THE HEAT, TRIGGER HAPPY COPS SHOOTING AT INNOCENT PEOPLE; BANG! ANOTHER PATRONIZED VICTIM, NO WE AINT WITH THAT, DONT LET YOUR SELF BE ANOTHER SEQUAL; TIME TO STAND UP AND ACT, THIS IS THE FUCK THE POLICE RAP ATTACK; OH AND I RECALL, SO MANY TIMES IVE SEEN, ALL OVER THIS PLANET AND NATION, THEIR BACON ASSES TRIPPIN; THROWIN DECENT PEOPLE DOWN TO THE FLOOR WITH NO MOTIVE OR REASON; RE-LIVIN VISIONS OF THEIR PAST, DISREGARDED AS AS KIDS, DOGHNUT EATIN PRICKS OFF SOCIETY TAKING OUR FRUSTRATIONS; THROUGH THIS FAKE SOCIAL MOVEMENT CALLED DEMOCRACY, OR IS IT REPUBLICANACY; EITHER WAY ITS MAN EXTORTING MAN; TAKING ADVANTAGE OF HUMAN BEINGS, NO MATTER WHAT RACE OR COLOR, NOT WORTHY TO RUN OUR COUNTRY, I THINK NOT, HALLAR; METAPHYSICAL METAMORPHIZATION, IN THE EYES OF JOHNNY LAW, YOURE THE ONE ACTIN COMPLAISANT; CANT TALK SENSE INTO THEM, RATHER THEY THROW YA IN THE PEN, UPON WHAT THEY THOUGHT ABOUT YOU; NO EVIDENCE, NOT A TRUE STORY, ANOTHER ALIGORY; PROGRAMMED BY A VISION SENT TO YOU CALLED REALITY, WHEN IN FACT YOUR JUST INFRONT OF YOUR TV; WITH NO HANDS ON KNOWLEDGE OF HOW TO DEAL WITH OUR SOCIETY; UPON A SITUATION GIVEN, HOW WILL YOU BE ACTIN, WHEN IN FACT ITS THE LAW TRIPPIN; THROWIN YOU ON YOUR FACE FOR SPEAKIN, NO RESPECT FOR THE WAY YOUR TREATIN US; NOW ITS TIME TO BUST THIS AUTHORITY, FOR THE INTERVENTION INTO YOUR FREEDOM; YOU CALL DEMOCRACY, PEOPLE RUNNIN OUR COUNTRY; WHY MUST WE CHOOSE SOME BUDDY ON A TV, WHEN THEY NEVER ONCE PERSONALLY TALKED TO ME; YOU PLUG YOUR SELF INTO YOUR TELEVISION EVERY DAY, NOW YOUVE ACCEPTED THEIR CONFORMITY; A FAKE ASS VISION OF SOCIETY, THE WAY THEY WANT IT TO BE; I THINK NOT, NOT WORTHY TO RUN OUR COUNTRY; SAVAGERHYMES CUMMIN UP TO BUST THEE........LYRICS BY MASON
xxxxxxxxxxxxxxxxxxxxxxxxxxxxxxxxxxxxxxxxxxxxxxxxxxxxxxxxxxx
xxxxxxxxxxxxxxxxxxxxxxxxxxxxxxxxxxxxxxxxxxxxxxxxxxxxxxxxxxx
*TOO MUCH POWER
GIVEN TO THE PIGS! LET THE CHILDREN PLAY!
OK, SO YOU THINK IM GOING TO TALK ALLOT OF SHIT ABOUT THE POLICE IN OUR NATION.
THAT'S RIGHT ! BUT ACTUALLY, THEY ARE, A FUNDAMENTAL PART OF KEEPING OUR
COUNTRY SAFE AND UNDER CONTROL! I RESPECT THE FACT THAT THEY ARE THERE IN A TIME
OF NEED. BUT THE FACT OF THE MATTER IS ; TO MANY TIMES ALL OVER THIS NATION,
I SEE THEIR BACON ASSES POWER TRIPPIN FOR NO REASON HIDING BEHIND THEIR BADGE
AND TAKING OUT THEIR FRUSTRATIONS ON THE GENERAL PUBLIC. ESPECIALLY KIDS!
SO IM GOING TO TELL YOU ABOUT WHAT I DO NOT AGREE WITH, AND THE PROCEIDURE OF
AN AUTHORITY FIGURE OF THE LAW IN WHICH THEY SHOULD BE ALLOWED TO ACT UPON WHEN
APPROACHING A HUMAN BEING IN PUBLIC. YOU MAY AGREE WITH ME, OR YOU MAY NOT
AGREE WITH ME . THIS IS JUST MY PERSON OPINION. SO LETS GET STARTED !

1 - WHY IS IT, THAT EVERY TIME I TURN ON A TELEVISION, AND WATCH THE NEWS, THERE'S
BEEN ANOTHER TRIGGER HAPPY COP KILLING SOMEONE. WEATHER IT BE THE NOTION THAT
THE PERSON MIGHT HAVE HAD A GUN, OR EVEN AN INDIVIDUAL SIMPLY PULLING HIS HANDS
OUT OF ONES POCKETS. COPS SEEM TO QUICKLY TO OVERREACT WITH THEIR TRIGGER FINGER.
AS IN CHULA VISTA, CALIFORNIA, 95 SHOTS INTO ONE PERSON BY 10 COPS. IF YOUR
ONLY ALLOWED A 10 ROUND CLIP, THIS MEANS THEY FIRED UPON THIS PERSON UNTIL THEY
RAN OUT OF BULLETS! ITS FUNNY HOW THE ISSUE WAS HUSHED AND COVERED UP QUICKLY
AND NOT ALLOWED TO BE PLAYED ON THE PUBLIC NEWS CHANNEL . THE KILLING AND THE
COVER UPS NEED TO STOP !
I DO AGREE THOUGH, THAT IF THERE IS ABSOLUTE PROOF, THAT A PERSON INTENDS TO
USE FORCE WITH A DEADLY WEAPON FOR A WRONG DOING, GO AHEAD AND SHOOT THE
MOTHER FUCKER ! BUT IT ONLY TAKES ONE OR TWO BULLETS, NOT A WHOLE ARSENAL !
THIS IS INHUMANE ! ITS LIKE BEATING A DOG WITH A BASEBALL BAT UNTIL ITS MUSH!

ALSO, THERE IS NO DIFFERENCE BETWEEN A COP KILLING A HUMAN BEING, OR SOMEONE
FROM THE GENERAL PUBLIC KILLING A HUMAN BEING. IF THERE WAS NOT A LIGITIMATE REASON,
THEY SHOULD BE PUNISHED TO THE FULL EXTENT !
AND YOU BEST BELIEVE I SUPPORT THE RIGHT TO BEAR FIREARMS ! WHAT HAPPENS
WHEN YOU ACTUALLY NEED ONE? AS FOR INSTANCE IF SOME ONE WAS TO BREAK INTO YOUR
HOUSE OR APPROACH YOU ON THE STREET, AND COME AFTER YOU IN A HATEFULL MANOR,
YOU HAVE EVERY RIGHT TO USE THAT WEAPON OF YOUR CHOICE, HOW YOU LIKE!
ANOTHER ASPECT OF THAT SUBJECT WHICH I DO NOT AGREE WITH IS WHATS THIS BULLSHIT
RULE ABOUT HAVING ONE FELONY AND NOT BEING ABLE TO OWN A FIREARM ? OK , SO I
AGREE THAT IF THAT FELONY WAS COMITTED WITH A GUN, OR DEADLY WEAPON, THAN YOU
PROBABLY SHOULDN'T BE ALLOWED TO OWN ONE. BUT IF THE CONVICTION HAD NOTHING TO
DO WITH WEAPONS, THEN YOU SHOULD BE ABLE TO OWN WHAT EVER WEAPON YOU'D LIKE !
MOST THE TIME, YOU MUST REALIZE, HUMANS DO, LEARN FROM PAST MISTAKES.
THE KEY TO KEEPING OUR SOCIETY SAFE WITH FIREARMS IS THROUGH EDUCATION AND
RESPONSIBILITY OF USING AND OWNING ONE. NOT TAKING THEM FROM EVERYONE.
FREE GUN LOCKS AT ALL TIMES SHOULD BE MANDATORY RULE!
AND OF COARSE A REQUIRED CLASS WHEN PURCHASING ONE? WE MUST AVOID VIOLENCE
AT ALL COSTS. WE MUST ACT RESPONSIBLY AND NOT CARELESSLY ! BUT IT IS, . .
YOUR CONSTITUTIONAL RIGHT TO BEAR ARMS !

2- WHEN COPS APPROACH A PERSON, WHETHER IT BE RANDOM CHECKS, OR PULLING
A PERSON OVER ON THE STREET FOR A TRAFFIC VIOLATION, WHY IS IT THAT THEY ALWAYS
SLAP YOUR ARMS BEHIND YOUR BACK OR THROW YOU ON YOUR FACE DOWN TO THE PAVEMENT
TRYING TO GET THAT MUTHA FUCKING TEST. BITCH, I AINT IMPRESSED! I SPEAK FROM
EXPERIENCE , ESPECIALLY WITH PACIFIC BEACH COPS, WHO HAVE NOTHING BETTER TO DO
ACCEPT STAND AROUND IN A GROUP AND WASTE OUR TAX DALLARS HARASSING KIDS WHO
ARE HAVING A GOOD TIME. LET THE CHILDREN PLAY.
I ALSO DO NOT AGREE WITH THROWING A HUMAN BEING ON THEIR FACE, OR DRAGGING THEM OUT
OF A POLICE VAN AND THROWING THEM ON THEIR BACK FROM ABOUT 4 FEET UP IN THE AIR,
THAT OF WHICH I HAVE WITNESSED IN PACIFIC BEACH CALIFORNIA. IN THIS INSTANCE, THE
KID WAS INLISTED IN THE ARMED FORCES . AUTHORITY FIGURES TREATING THE YOUTH THAT
PROTECT OUR NATION, LIKE DOG SHIT. THIS IS NOT THE WORLD WIDE WRESTLING POLICE
FEDERATION. ITS RESPECTING THE MORAL AND PHYSICAL RIGHTS OF A HUMAN BEING !
MORE RESPECT MUST TO BE GIVEN THE THE BEHAVIOR IN WHICH YOU APPROACH AND
CONFRONT A PERSON IN THE LINE OF DUTY.
HOWEVER, I DO AGREE, THAT A LITTLE ROUGH TREATMENT, UPON A SITUATION
GIVEN, IS ACCEPTABLE IF A HUMAN IS BREAKING THE LAW TO A SPECIFIED EXTENT.
FOR INSTANCE : DRUNK DRIVING, FIGHTING IN PUBLIC, ECT . .. THAT OF WHICH SOME BODYS
ACTIONS COULD ACTUALLY HURT SOMEONE ELSE.

3- I DO NOT AGREE WITH A QUOTA, UPON WHICH A CITY TASK FORCE MUST MEET
BY CITATIONS. THIS AGAIN IS A GREEDY PLOY TO MAKE MONEY FOR THE CITY, WHICH
DID NOT SPEND THEIR MONEY WISELY, AND ALLOWS THE COPS TO FLOCK TO A SPOT
RUNNING AROUND LIKE CHICKENS WITH THEIR HEADS CUT OFF, LOOKING FOR TROUBLE.
THAT OF WHICH THEY INTERVEEN INTO YOUR LIFE AND FREEDOM OF MOVEMENT,
LOOKING FOR ANYTHING THEY CAN FIND TO PENALIZE YOU WITH AND GET YOUR MONEY.
IT MAKES YOU FEEL LIKE YOU CANT EVEN GET OUT OF YOUR HOUSE WITH OUT BEING
HARASSED !
I WILL REPEAT MY SELF AGAIN , I AM ALL FOR COPS AND THE ROLE IN SOCIETY THEY
PLAY AS FAR AS KEEPING THE PEACE, BUT THROUGH THE SYSTEM AND ITS TWISTED,
HARD TO UNDERSTAND , MANIPULATIVE RULES, I HAVE SEEN TOO MANY TIME ,
THAT POLICE SEEM TO TAKE OUT THEIR FRUSTRATIONS UPON THE GENERAL PUBLIC.
GO CHASE THE BAD GUYS !
WATCH OUT! YOU DON'T WANT TO GET PULLED OVER BY A COP THAT'S HAVING
A BAD DAY. BECAUSE THEY WILL, UPON YOUR TONE OF VOICE AND WHAT THEY
THINK ABOUT YOU; TREAT YOU HOW THEY LIKE.
AMERICAS FINEST, I AIN'T BUYIN IT !
SMELLS LIKE A BUNCH OF BULLSHIT AND ANOTHER USELESS POWER TRIP.
I'M OUT!
xxxxxxxxxxxxxxxxxxxxxxxxxxxxxxxxxxxxxxxxxxxxxxxxxxxxxxxxxxxxxx
xxxxxxxxxxxxxxxxxxxxxxxxxxxxxxxxxxxxxxxxxxxxxxxxxxxxxxxxxxxxxx

THE OTHER DAY I WAS CRUISING DOWN BACON STREET, IRONIC HUH, WHEN A COP
PASSES BY ME , THEN HE PROCEEDED TO DOA FLYING 180 DEGREE TURN AND COMES SPEEDING AFTER ME. HE THEN ASKS FOR LICENSE AND REG. ,
PULLS ME OUT OF MY CAR, PUTS MY HANDS HEHIND MY BACK, SEARCHES ME, THEN THROWS ME IN THE BACKOF THE COP CAR AND ASKS IF IDE EVER
BEEN ARRESTED? THE HE TAKES MY PAPER WORK, GOES OVER TO MY CAR , AFTER A FEW MINUTES, HE COMES BACK OVER AND PULLS ME OUT OF THE CAR
AND MAKES ME SHOW HIM WHERE THE VIN WAS ON IT. THE DUMB ASS COULDN'T FIND IT. SO I SHOW HIM IT.THEN HE HAS THE FUCKING NERVE TO ASK
ME IF MY TRUCK IS STOLEN. BASICALLY TO THE COP. FUCK YOU. OF COURSE I DIDN'T SAY THAT.THEN HE ASKS IF IDE BEEN DRINKING AND ASKED
TO SEARCH MY AUTOMOBILE. I KNOW MY RIGHTS AND HE NEEDED A SEARCH WARRANT, BUT OF COARSE I HAD NOTHING TO HIDE, SO I ALLOWED HIM TO
SEARCH MY VEHICLE, THEN HE COMES BACK TO ME AND SAYS, THE REASON I PULLED YOU OVER WAS FOR A SEAT BELT. AND I SEE THAT IT LOOKS LIKE
IT WAS ON. SO AFTER A BIT MORE IF INTERROGATION, I ASKED THIS PIG, WHY WAS THE REASON YOU REALLY PULLED ME OVER, AND HE REPLIES,
WELL WITH A CAR LIKE THAT YOUR GANNA GET PULLED OVER. THANX ASSHOLE. THEN HE ENDS UP LETTING ME GO WITH NO TICKET. BECAUSE I DID,
HAVE MY SEAT BELT ON. AND A CLEAN RECORD.
xxxxxxxxxxxxxxxxxxxxxxxxxxxxxxxxxxxxxxxxxxxxxxxxxxxxxxxxxxxxxxxx
xxxxxxxxxxxxxxxxxxxxxxxxxxxxxxxxxxxxxxxxxxxxxxxxxxxxxxxxxxxxxxxx
MAY 19TH ABOUT 12:00 IN
THE AFTERNO0ON. COPS ENTRAP PEOPLE IN OCEAN BEACH C.A BY USING SEAT BELT TICKETS AS EXCUSES TO RUN AROUND LIKE DUMBASSES AND GIVE
OLD WOMEN AND ANYONE THEY COULD A TICKET. THEY RAN AN OPERATION, SO CALLED, CLICK IT OR TICKET. IN OCEAN BEACH THERE WERE PROBABLY
FOUR OR FIVE INTERSECTIONS WITH A COP ON ALL FOUR CORNERS OF EACH INTERSECTION PULLING OVER ANYONE THEY COULD AND IN THE PROCESS
CAUSING TRAFFIC JAMS DOWN NEWPORT AVE, VOLTAIRE AVE, AND WEST POINT LOMA AVE.. TO THE SAN DIEGO POLICE: QUIT HARRASING PEOPLE BY
ENTRAPPING THEM .THIS IS ILLEGAL.HOW WOULD YOU LIKE IT IF THE WHOLE COMMUNITY GOT TOGETHER AND SUED THE SD POLICE FOR FOR EVERY
SINGLE BULLSHIT TICKET THAT WAS GIVEN OUT THAT DAY. WE HAVE VIDEO OF THIS DAY WITH THESE IDIOTS RUNNING AROUND LIKE CHICKENS WITH
THEIR HEADS CUT OFF . RATHER EXTENSIVE VIDEO FOOTAGE TO SAY THE LEAST. ONE COP OF WHICH EVEN HAD TWO TICKET BOOKS . ONE IN EACH
BACK POCKET. OH AND THEN THERE'S THE BLACK MOTOR CYCLE COP WHO LIKE TO WAVE EVERYONE OVER , AND LINE THEM UP FIVE AT A TIME. VIDEO
WILL BE MADE AVAILABLE TO THE PUBLIC SOON FOR VIEWING AND DISGUST. AGAIN , GO CHASE THE BAD GUYS ,
xxxxxxxxxxxxxxxxxxxxxxxxxxxxxxxxxxxxxxxxxxxxxxxxxxxxxxxxxxxxxxxx
xxxxxxxxxxxxxxxxxxxxxxxxxxxxxxxxxxxxxxxxxxxxxxxxxxxxxxxxxxxxxxxx
DO YOU REALIZE THAT ITS YOUR RIGHT TO REFUSE A SOBRIETY TEST FROM A POLICE OFFICER.? THIS MEANS THE FLASH LIGHT IN THE EYES
TEST AND THE CLOWN CIRCUS ACT THAT THEY WOULD TRY TO PULL YOU OUT OF YOUR CAR AND MAKE YOU PERFORM***