Your Tax Dollars Spent on Colombian Prostitutes.
Colombia prostitute: Agents in Obama Prostitution scandal 'idiots,' liked to 'show off their bodies'
Published May 07, 2012
FoxNews.com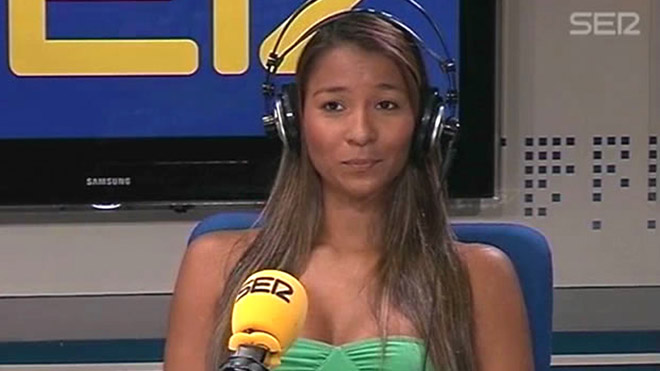 The prostitute claiming to be at the center of the Secret Service scandal in Colombia said in an interview broadcast Monday that the men involved were "completely stupid idiots" and questioned how President Obama could have had them on his security team.
In an interview aired on NBC's "Today" show, Dania Londono Suarez said the men involved did not seem "shy" about asking for sex. She said they clearly liked "attention" and seemed as if they'd done this before, reportedly calling them "brutes."
"They like to show off their bodies, great bodies -- well-defined abs," she said. "Every time (one of the agents danced) with me, he (lifted) up his sweater so I could see."
Suarez, who apparently thought they were tourists, said the men "left their duty behind" in bringing women back to their rooms.
"They seem like completely stupid idiots," she said. "I don't know how Obama had them in his security force."
The Secret Service so far has ousted eight agents over the scandal, which occurred in Colombia last month ahead of the president's visit. Another official had his security clearance permanently revoked and three others were cleared of serious wrongdoing.
The military also is investigating alleged misconduct among U.S. service members on the trip.
Suarez said the man she stayed with even asked her to stay in the hotel the next morning.
"He told me, 'stay here, stay my love.' I told him no," she said.
That's when a dispute over payment apparently caught the attention of hotel staff and later police.
Read more: http://www.foxnews.com/politics/2012/05/07/colombia-prostitute-agents-in-scandal-idiots-liked-to-how-off-their-bodies/#ixzz1uDMthFCs
Obama and His Secret Serice Agents Involved In Prostitution Ring. Your Fired! Get the Fuck Out Of Our Country You Piece of Gay Shit! Go Back To Your Home Country Kenya and Tell Them your a failure!
President Obama, in his first public remarks on the prostitution scandal involving members of the Secret Service, said Sunday that he will be "angry" if the reported allegations against the agents turn out to be true. He said Secret Service personnel, like the rest of any U.S. delegation abroad, must "observe the highest standards."
"We're here on behalf of our people and that means that we conduct ourselves with the utmost dignity and probity. And obviously what's been reported doesn't match up with those standards," Obama said, on the closing day of his visit to Colombia.
The president, though, said he would wait until the internal investigation is complete before rendering a judgment. He said he expects the probe to be "thorough" and "rigorous" -- and that if the allegations turn out to be true, "then of course I'll be angry."
The president addressed the controversy during a joint press conference with Colombian President Juan Manuel Santos. Allegations that a Secret Service unit interacted with prostitutes in Colombia ahead of Obama's visit have overshadowed a trip that was supposed to focus on trade and other pressing issues between the U.S. and its Latin American ally.
Eleven agents accused of misconduct were recalled from their assignment and have since been placed on administrative leave.
Obama cast the incident as isolated, and praised the Secret Service as a whole.
"These men and women perform extraordinary service on a day-to-day basis protecting me, my family, U.S. officials," he said. "They do very hard work under very stressful circumstances and almost invariably do an outstanding job."
Rep. Peter King, R-N.Y., chairman of the House Homeland Security Committee, took a similar position - praising the way the agency's probe has been conducted and voicing confidence in Secret Service Director Mark Sullivan.
King called the incident an "aberration."
King's panel, though, is moving to look deeper into the incident. He told Fox News that he's directed his staff to launch an "immediate investigation" -- he said his panel will likely hold a hearing on the incident.
Rep. Darrell Issa said Sunday that he believes the potential misconduct is not a first.
"Things like this don't happen once if they didn't happen before," Issa, R-Calif., chairman of the House Oversight and Government Reform Committee, said on CBS' "Face the Nation."
He said his staff will participate in what he described as an "over-the-shoulder investigation" to find out how the incident happened and "how often has this happened before."
"This kind of a breach is a breach in the federal workforce's most elite protective unit," he said.
Issa said he was not satisfied by claims that Obama was never in danger, considering the questions the incident raises.
"What happens if somebody six months ago, six years ago, became the victim of their own misconduct and is now being blackmailed?" he said. "The question is, is the whole organization in need of some soul-searching, some changes."
The Secret Service scandal is the latest example of federal workers coming under the congressional microscope for their conduct. Issa's committee and others are also opening a probe into the General Services Administration after an internal report found the agency spent more than $820,000 on a Las Vegas conference.
Issa said Sunday that Americans need to have confidence in federal workers, whether they're from the GSA or the Secret Service. Issa also said he thinks the number involved in the Secret Service controversy "might be higher" than disclosed.
Aside from the Secret Service agents, five members of the U.S. military also "may have been involved in inappropriate conduct" in the same hotel, military officials said Saturday. A military statement did not get into specifics, but said they violated curfew.
Details are still emerging, but the behavior of the agents initially attracted attention during a dispute at the Hotel Caribe over payment for an extra "guest."
According to a senior law enforcement official, an employee approached at least one Secret Service agent and demanded that he pay extra money for having an additional overnight guest in his room.
The agent balked, which eventually resulted in a confrontation and forced diplomatic intervention.
The official said the guest involved apparently was a prostitute.
Afterward, a new Secret Service crew was immediately rushed to Colombia to cover the agents who had been sent home.
The embarrassing incident has quickly eclipsed issues addressed at the summit such as foreign trade, the economy, drug trafficking, immigration and collaboration among the 33 Western Hemisphere countries.
The beachfront hotel where the apparent incident occurred is also the same where other White House staff and the press are staying.
A Service Service spokesman said the alleged incident occurred prior to the president's arrival.
Fox News' Ed Henry and Kimberly Schwandt contributed to this report.
Read more: http://www.foxnews.com/politics/2012/04/15/congress-to-probe-secret-service-prostitution-scandal/#ixzz1s9i34GzN
The Secret Service confirmed Saturday night that 11 of its staffers assigned to the trip have been placed on administrative leave as the investigation proceeds into dealings between prostitutes and U.S. government personnel preparing for President Barack Obama's arrival at the Summit of the Americas in Colombia.
"The nature of the allegations, coupled with a zero tolerance policy on personal misconduct, resulted in the Secret Service taking the decisive action to relieve these individuals of their assignment" and send them home, Secret Service Assistant Director Paul Morrissey said in the agency's most detailed statement to date.
"The personnel involved were brought to Secret Service Headquarters in Washington, D.C., for interviews today. These interviews have been completed," Morrissey added. He called the administrative leave "standard procedure [that] allows us the opportunity to conduct a full, thorough and fair investigation into the allegations."
Morrissey said some of the Secret Service personnel were special agents and some were part of the Service's Uniformed Division, but none came from the Presidential Protective Division — the iconic plainclothes agents who shadow the president at his public events.
Earlier Saturday, the White House maintained its stance of refusing to comment on the scandal, even as word came that military personnel were also involved.
White House press secretary Jay Carney, in an on-camera briefing in Cartagena Saturday afternoon, said of the military personnel that "It is our understanding this is part of the same incident" as the Secret Service.
Carney confirmed that the White House was informed of the incident by the Secret Service on Thursday and that Obama was told about it Friday.
Asked whether the episode amounted to a distraction for the president, Carney said, "It has not. I think it's been much more of a distraction for the press."
Carney directed reporters' questions to the Secret Service, declining even to say whether the White House was disappointed by the episode.
"I don't have any characterization of this beyond my referral [of questions] to the Secret Service," Carney said.
Read more: http://www.politico.com/news/stories/0412/75134.html#ixzz1s9k1LjZJ
CARTAGENA, Colombia — Five U.S. military members have been ordered confined to quarters over possible involvement in inappropriate conduct at the same hotel here as the 11 Secret Service personnel sent home in an unfolding scandal involving local prostitutes.
Making the announcement Saturday, United States Southern Command commander Gen. Douglas Fraser said he is "disappointed by the entire incident and that this behavior is not in keeping with the professional standards expected of members of the United States military."
Read more: http://www.politico.com/news/stories/0412/75134.html#ixzz1s9k8U8nd