Question?
Why Does America Care MORE About It's Money,
than it's Children????

ANSWER:
Because Our "so called leaders" have their heads up their assessssssssssssssssssssss.!!!!!!!!!!!!!!!!!!!!!!!!!!!!!
Shouldn't we protect  our children just as much or more than our money?
Think;
What comes with every precious little bundle of money?.
An armed guard and a bullet proof truck along with a back up guard.
Not to mention a guard at almost every bank in America also,
do we not??.
So then tell me why,  is it so hard for all you Americans,
to believe it possible to put an armed guard or police officer,
in every school in America?????????????
Is it more important to protect our money?
Is our money worth more than our children?
Actually, money ain't worth nothin,
if you lose the closest person to you
Money can't buy them back..
Nope..
Then why is so hard for all of you to think about putting an armed guard in front of every building which has our most precious assets in it,
our children...
The only thing that will stop a bad guy with a gun,
is a good guy with a gun.
And the bad guys will always have the guns.
Look at Mexico.
A nation that does not allow guns,
yet guns control their nation because,
only the bad guys have the guns.
Seems the older generation cares more about their next vacation,
and that 3000 Dollar dinner instead of my kids, your kids.
The Next Generation.
So we say Pto those "So Called Leaders"
HeADS UP yOUR ASSES !!!!!!!

"22 children murdered by two hand guns or a rifle ?
Which guns were they?.What is the Real Story??
Lets investigate Shall We...

- The gunman walks into the school with 2 9mm handguns,
leaving the AR-15 rifle in the car..
AS REPORTED BY NATIONAL NEWS..
REPORTED RIFLE FOUND IN CAR
- And somehow all the victims are killed by the rifle and not the handguns.
MEDICAL EXAMINER SAYS KIDS SHOT W RiFLE, NOT HAND GUNS?
-Magic bullets are one thing.
A magic rifle is a whole other matter.
Why are they not telling us the whole story?
Something is not right here..
It seems like they are shooting or staging actual murders to try to take our guns away.??
All the facts don't add up with what they are telling us.
Changing the facts would only mean one thing.
An ongoing story that is evolving and changing as
time ticks into the future.
Who's in charge of these stories??
What up????????????????????????????????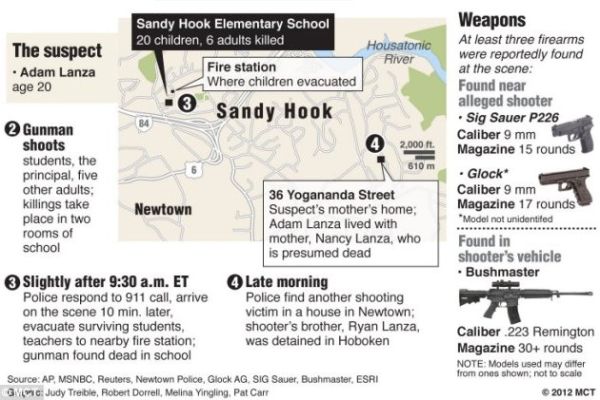 A troubled 20-year-old loner with a history of autistic behavior is the monster behind a horrific shooting at a Connecticut elementary school that left 26 people, including 20 children, dead on Friday.
Adam Lanza shot his mother, Nancy, at the upscale suburban home they shared together and then took three of her guns and drove to Sandy Hook Elementary School about 9.30am.
He used two semi-automatic pistols, a Glock and Sig Sauer, and reportedly wiped out an entire classroom of young children, then shot several in a second class before taking his own life.
Witnesses say Lanza was going from room to room shooting people, after first killing the principal Dawn Hochsprung and the school psychologist Mary Sherlach execution-style when they confronted him in the hallway.
Parents who had not already been united with their children at the nearby fire station were told to assume the worst. One witness told WCBS: 'Police just told us everyone presumed missing is in the school and they are dead.'
Lanza used to be a mild-mannered student in high school, making the honor roll, and living with his mother, Nancy Lanza, who in turn loved playing dice games and decorating their upscale home for the holidays.
A student in his tenth grade Honors English class recalled he was very quiet, very thin and carried a black briefcase to class, which stuck out when all the other kids carried backpacks.
He dressed more formally than other students, often wearing khaki pants, button-down shirts and at times, a pocket protector. Many recalled that he was highly intelligent.
Medical examiner: all Sandy Hook victims died of multiple gunshot wounds
NEWTOWN, Conn.--Dr. H. Wayne Carver, the medical examiner investigating Friday's massacre at Sandy Hook Elementary School, said autopsies completed on 20 children and six adults on Saturday showed they were killed with multiple bullets fired by a rifle at close range.
"I've been at this for a third of a century and my sensibilities may not be those of the average man, but this probably is the worst I have seen or the worst that I know of any of my colleagues have seen," Carver told reporters gathered at Treadwell Park, less than a mile from the school where the shooting occurred.
Lt. Paul Vance distributed a photocopied list with the names and dates of birth of the victims, including 12 girls and 8 boys, most of them born in 2006.
The youngest was Noah Pozner, who celebrated his 6th birthday in November. Josephine Gay, another victim, turned 7 on Dec. 11, three days before the massacre. The oldest victim identified Saturday was Mary Sherlach, age 56.
All of the adult victims were women, aged 27 to 56.
Autopsies on the suspected shooter, who police say shot himself, and his mother--who was found dead in their Newtown home--would be conducted Sunday, Carver said.
Police have still not released his name. "You have to understand this is an ongoing investigation, with an active crime scene," Vance said.
The veteran medical examiner told reporters that the victims had all been identified and their bodies released. In what appeared to be an uncomfortable moment for Carver, he said all of the victims he had examined had all been shot by a Bushmaster .223 caliber assault rifle, one of at least two weapons Adam Lanza, the 20-year-old suspected shooter, used to commit one of the deadliest mass shootings in U.S. history.
"This is only the second press conference I have ever done," in more than 30 years, Carver noted dryly.
Lanza allegedly gunned down his mother, Nancy Lanza, at their home Friday before driving to Sandy Hook and forcing his way inside to commence the deadly shooting spree.
Before the names were released, Newtown First Selectman Patricia Llodra urged the crush of media assembled at the park to respect the victims' families.
"Please treat our community with kindness," Llodra said. "We need your help on this healing journey."
Earlier, Sen. Richard Blumenthal met with local officials and families in Newtown, but refused to engage in the debate over gun control in the wake of the shooting.
"We're going to have that conversation at another time," Blumenthal told Yahoo! News. "Right now my focus is on this community, the families and the continuing shock and grief they are experiencing."
He added: "I can't imagine any job tougher than to tell parents their 7-year-old is gone. It's the worst nightmare for any parent."

"Most of the ORIGINAL stories stated that he only took the Glock and Sig Sauer pistols INTO the school and that the .223 Bushmaster was found IN-THE-CAR....soooo, how can the .223 be found in the car and also had been taken into the school....."

"Did he have a sub machine gun, rifle or just a few handguns. Something just isn't adding up and they keep changing the report."
"The Bushmaster .223 caliber IS NOT an assault rifle!!! So IF the medical examiner said that, and that was NOT added by the IDIOT Dylan Stableford, of Yahoo! News | The Lookout as he has done before, then the medical examiner does NOT know what he is talking about and may NOT even know what a .223 caliber IS. It had been reported before that that rifle was found in the car. So unless the shooter was able to put the rifle in the car after he was dead then there are some SERIOUS discrepancies. I also head a report that he had a shot gun. So what IS the REAL story??? And what IS the story they are just telling???????"

"Why was his AR-15 found in his car? This was confirmed by the FBI.
Did he walk back out to his car only to go back in and shoot himself?"

""Bushmaster .223 caliber 'ASSAULT' rifle"? Notice how the AH Dylan Stableford, took it upon himself, like every lib does, to throw in the word "Assault". You libs make me want to puke.
Conclusion of investigation of the Kid Massacre is as follows:
This was a staged killing.
The killings were done by a professional.
The kid might have been set up as to say , a gun put in his hand,
once he was shot.
We don't know exactly who was behind the gun, or do we.
They say their were witnesses,
but he was in full riot gear.
its pretty hard to tell who someone is in full riot gear.??
This was a scare killing..
It was meant to scare us..
The media has lied about what guns were used and when.
The head coronor concluded that the kids were shot by a rifle .
Not hand guns.
This was as professional hit.
Who do you know that has a hit list??
Some one in our country..
We Think...
And what was their motive behind killing kids?
To Ban Guns???
These murders might have been A Terrorist Attack! Red Alert !